About Us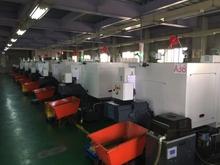 Established in 1996, Duo-Liang specializes in R&D and manufacturing IR sensor automatic water feeding equipments. Presently, the products include desktop automatic faucets, desktop manual and automatic faucets, wall mounted automatic faucets, manual and automatic urinal flush, manual and automatic toilet flush. The company has increasingly engaged in development and innovation of products sold to over ten countries worldwide and acquired many domestic and foreign patents and win good reputation from the hospitals.

The company stressed that because of the use of the product on the stability and durability, and continue testing and development, and in each product delivered to the customer before the full detection state. We have tested the stability and durability. The company also because of the courage to develop innovative products to meet the market changes and have elasticity, thus better meet customer needs, grasping the market potential flooding.

For many years, we are seeking development from stability with the practical attitude, uphold the most stringent principles of quality control techniques, have deeply commanded recognition and trust by our domestic and foreign customers. worldwide view, Taiwan root. 100% made in Taiwan to create highest quality and best after-sales service to our customers.
More
News
More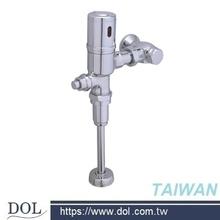 Best choice to satisfy your needs. DOL Body made with polished chrome brass for durability. With a mechanical override button that enables manual operation. Direction of water inlet can either from left or right side.(T-719) With vacuum breaker flush tube. Special design for tamper proof and vandal proof. All electronic and solenoid parts are protected and sealed to resist water and moisture. When battery is low, the LED lamp will flash. Easy to installation, covert the manual flush valve into automation in minutes. SPECIFICATIONS Power Source Type AA battery 4 PCs or DC 6V plug-in power adaptor Battery Life 3 Years (alkaline battery at 50,000 uses per year) Sensing Range 5~25cm adjustable (default 18cm) Working Pressure 0.5 kgf/cm2 ~ 7 kgf/cm2 Temperature 1℃ ~ 60℃ Water Supply connection PF 1"
More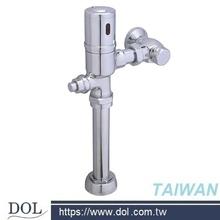 Best choice to satisfy your needs. DOL Body made with polished chrome brass for durability. With a mechanical override button that enables manual operation. Direction of water inlet can either from left or right side.(T-719) With vacuum breaker flush tube. Special design for tamper proof and vandal proof. All electronic and solenoid parts are protected and sealed to resist water and moisture. When battery is low, the LED lamp will flash. Easy to installation, covert the manual flush valve into automation in minutes. SPECIFICATIONS Power Source Type AA battery 4 PCs or DC 6V plug-in power adaptor Battery Life 3 Years (alkaline battery at 50,000 uses per year) Sensing Range 5~25cm adjustable (default 18cm) Working Pressure 0.5 kgf/cm2 ~ 8 kgf/cm2 Temperature 1℃ ~ 60℃ Water Supply connection PF 1"
More
New Products
Featured Products